Pharmacy Teams See Improvements in Data Transparency, Communication, and Shortage Management Efforts with OrbitalRX
When it comes to the value we provide to hospitals nationwide, we'll let our customers speak for us. To learn how your colleagues across the country are using OrbitalRX and the value they're being provided by the platform, click on any of the case studies on this page or watch this customer webcast with demo.
OrbitalRX Saves Time and Provides Greater Visibility into Your Pharmacy Data
Froedtert is now able to keep a closer eye on their supply, regardless of who is working that day. They can see on-hand inventory and transfer supply to proactively manage shortages.
As a result of having more organized data, UVA touts being better informed and a reduction in their workload. They've also directly helped to shape the functionality of OrbitalRX.
Ochsner needed to integrate their data across all of their sites as they grew. With OrbitalRX, they're now seeing improvements in visibility and communication across their entire system.
What Pharmacy Teams are Saying About OrbitalRX:
Pharmacy Manager
"It was a smooth implementation. Since the OrbitalRX team had experience with our inventory management systems, their expertise helped us transition quickly. I was surprised just how little we needed to be involved in the implementation work."
– Kristin
Pharmacy Supply Chain Manager
"Our understanding of our data has improved and we didn't have to involve other departments during implementation. We are more productive and [OrbitalRX] will become essential to our drug shortage management. It increases visibility and communication of shortages to staff and task assignment is exponentially easier to keep track of."
-Marc
Pharmacy Buyer
"I can confidently say that I would be lost without OrbitalRX. It has made managing shortages so much easier and given me back a good portion of time in my day. I would recommend OrbitalRX to any facility looking to have a one-stop shop for all things shortage-related for their pharmacies."
– Meghan
Pharmacy Director
"We chose to work with OrbitalRX because their leadership team has experience in the trenches, leading pharmacy services in a large, complex, academic medical center environment. They've been in our shoes and understand our challenges."
– Jim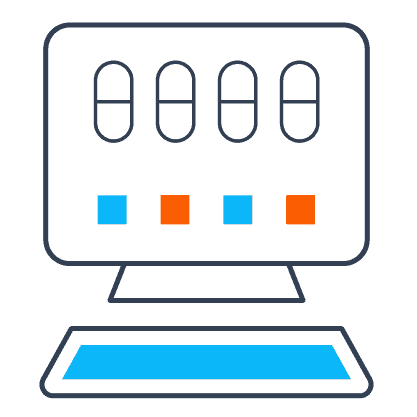 Medication Shortage Specialist
"I'm in there all day long, every day. I refer to it constantly. Looking at not only our usage and supply on hand, but our other sites as well. I am able to refer to my notes from previous weeks and remind myself of the specifics on that particular shortage. My job revolves around the information in OrbitalRX. Without having all that information in one place, we would be lost."
– Tabitha
Medication Utilization Strategy Pharmacist
"Our understanding of our data has improved. Customer service is quick and great! I recommend OrbitalRX."
– Hollee
Chief Pharmacy Officer
"Thanks for all you guys are doing to help with [COVID-19] at OrbitalRX. We have been really impressed by the outcomes we have been seeing over the last several months using the technology."
– Phil
Supply Chain Manager
"The OrbitalRX solution will save 8-10 hours of work a week for one of our buyers and help improve the overall organization of how our team works together."
– Spencer
MEDICATION UTILIZATION STRATEGY MANAGER
"I've really enjoyed working with the [OrbitalRX] team. I feel like my voice is heard whenever I share ideas and feedback. There's always a dialog that follows, and I am kept informed about what happens with my suggestions. I can see where OrbitalRX has progressed and now reflects some of my ideas. I feel like it's not only a platform I use, but one I've helped grow, which I appreciate."
– Brian S.
CLINICAL PHARMACIST
"Tracking shortages with multiple pieces of data from multiple systems is time consuming and inefficient. OrbitalRX makes shortage management less stressful since it brings everything together for us."
– Brian P.